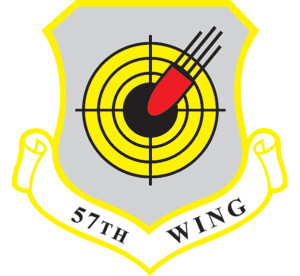 The 57th Wing is the most diverse wing in the United States Air Force.
Its innovative professionals lead advanced, realistic, multi-domain training focused on winning the high-end fight for world-wide combat air forces and showcases aerospace power to the world while overseeing the dynamic and challenging flying operations at Nellis Air Force Base, Nevada.
It manages all flying operations at Nellis and conducts advanced aircrew, space, logistics, and command and control training through the U.S. Air Force Weapons School, Red Flag and Green Flag exercises.
Important components of the training include adversary tactics replication (provided by the wing's aggressor squadrons) and graduate level instruction and tactics development (accomplished through each of its schools). The wing additionally supports the USAF Warfare Center's test and evaluation activities and showcases U.S. air power through the U.S. Air Force Air Demonstration Squadron "Thunderbirds."
The wing is comprised of seven distinct organizations: the 57th Adversary Tactics Group, 57th Maintenance Group, 57th Operations Group, USAF Weapons School, USAF Advanced Maintenance and Munitions Officers School, U.S. Air Force Air Demonstration Squadron and 561st Joint Tactics Squadron.
57th Operations Group: The 57th OG educates, exercises, and advocates the integration of airpower into the joint fight and supports the preparation of the combat air forces' maintainers and aircrews. To execute its mission, the 57th OG oversees operations of six squadrons and three detachments from Nellis AFB and four geographically separated locations.
414th Combat Training Squadron conducts exercise Red Flag, a realistic combat training exercise involving the air forces of the United States and its allies that maximizes the combat readiness and survivability of participants by providing a realistic training environment. It is conducted on the vast Nevada Test and Training Range complex.
549th Combat Training Squadron hosts (along with the 12th CTS) Green Flag-West exercises, providing the ultimate peacetime close air support training for Joint and Coalition personnel in the integration and employment of air, space and cyber power in conjunction with ground force operations.
6th Combat Training Squadron along with its detachment at Fort Sill, Oklahoma, provides Air-Ground Warriors education and training in doctrine, concepts, tactics, techniques and procedures by which air and ground forces plan, request, coordinate, and control joint firepower on the battlefield.
57th Operations Support Squadron manages Nellis' diverse airfield, airspace, and flight scheduling operations to enable units to conduct advanced operational, test and training missions. It is also responsible for scheduling, training, weapons, tactics and planning staff functions.
12th Combat Training Squadron readies tactical air control parties, weather teams, and brigade combat teams to execute decisive, world-wide multi-spectrum combat operations during Green Flag-West exercises at the U.S. Army's National Training Center, Fort Irwin, California.
548th Combat Training Squadron along with its detachment at Barksdale AFB, Louisiana, executes Green Flag-East exercises, providing operational control, safe employment, and realistic close air support training for tactical aircrews and tactical air control parties at the U.S. Army Joint Readiness Training Center, Fort Polk, Louisiana.
57th Adversary Tactics Group: The 57th ATG provides a coordinated Red Force to train U.S. personnel and coalition partners during exercises and deployments, while overseeing U.S. Air Force-wide Air, Air Defense, Space and Information Aggressor initiatives and threat academic programs. To accomplish this mission, it directs operations of five squadrons.
57th Adversary Tactics Support Squadron consolidates and coordinates shared elements of the Aggressor mission, allowing the presentation of complete enemy target sets to customers. It also provides standardization at the group level for processes and programs common to multiple Aggressor units.
57th Information Aggressor Squadron executes cyberspace operations by emulating current and emerging threat capabilities and tactics and providing adversary operational and tactical influence operations and network operations integrated with Air, Space and Ground Aggressors to train the warfighter.
64th Aggressor Squadron prepares the CAF's joint and allied aircrews for tomorrow's victories through challenging, realistic threat replication, training, test support, academics, and feedback. They accomplish this as the U.S. Air Force's professional adversaries, flying F-16 aircraft for Red Flag exercises, USAF Weapons School syllabus support, priority test mission support and road shows that visit various units throughout the CAF.
507th Air Defense Aggressor Squadron readies the CAF, joint, and allied aircrews with challenging and realistic specialized academics, hands-on-training, and subject matter experts on adversary surface-based threats, composite force employment, and electronic combat to defeat potential adversaries.
527th Space Aggressor Squadron operating from Schreiver AFB, Colorado, prepares U.S. Air Force, joint and allied forces for combat through realistic threat replication, training and feedback through specialized and certified space capable aggressors. It operates adversary space systems, develops new tactics, techniques and procedures to counter threats, and improves the US military space posture.
57th Maintenance Group: The Air Force's most complex maintenance group provides on- and off-equipment maintenance for more than 130 assigned A-10, F-15, F-16, F-22 and F-35 aircraft and all visiting Red Flag, Green Flag, and operational test and evaluation aircraft.
57th Aircraft Maintenance Squadron accomplishes on-equipment maintenance of assigned aircraft, to include aircraft servicing, before and after flight inspections, launch and recovery, munitions loading, and any unscheduled maintenance requirements that occur during the course of the flying day. The squadron's Aircraft Maintenance Units include the Raptor (F-22), Tomahawk (F-16), Viper (F-16) and Lightning (F-35).
57th Maintenance Squadron provides munitions support, equipment calibration, and program management, while managing weapons standardization, quality assurance, manpower, client support, equipment, and facilities for the Nellis maintenance complex.
757th Aircraft Maintenance Squadron accomplishes intermediate-level maintenance on aircraft and support equipment components, maintaining avionics, laser guided weapons systems, pneudraulics, fuel systems, engines, measurement/diagnostic equipment, electro-environmental, and egress systems. Squadron AMUs are Eagle (F-15), Strike (F-15), Thunder (A-10).
United States Air Force Weapons School: Comprised of 18 squadrons, the USAF Weapons School teaches graduate level instructor courses that provide the world's most advanced training in weapons and tactics employment to officers of the combat air forces and mobility air forces. Every six months, the school produces approximately 100 graduates who are expert instructors on weapons, weapons systems, and air and space integration. The school also produces the Weapons Review magazine, the CAF's premier professional tactics publication. Students are fully qualified instructors, chosen by a central selection board, and among the top of their peers. During the course, they receive an average of 400 hours of graduate-level academics and participate in demanding combat training missions. The climax of the course is the Weapons School Integration phase, the intense large-force employment staged battle over the Nevada Test and Training Range. The students demonstrate their ability to manage a battle and effectively integrate multiple weapons systems. Upon graduation, the new weapons officers return to the field to serve as unit weapons and tactics officers, providing advanced instruction and technical advice to their commanders, operations officers, and personnel.
The USAFWS squadrons based at Nellis are the 8th Weapons Squadron (WPS) (Command and Control Operations), 16th WPS (F-16/F-35), 17th WPS (F-15E), 19th WPS (Intelligence), 26th WPS (MQ-1/MQ-9), 34th WPS (HH-60/HC-130), 57th WPSS (Operational Support), 66th WPS (A-10/JTAC), 315th WPS (ICBM), 328th WPS (Space), and 433rd WPS (F-15C/F-22). The seven geographically separated units include the 14th WPS at Hurlburt Field, Florida (AC-130/MC-130/U-28); 29th WPS at Little Rock AFB, Arkansas (C-130); 57th WPS at Joint Base McGuire-Dix-Lakehurst, New Jersey (C-17); 77th WPS at Dyess AFB, Texas (B-1); 325th WPS at Whiteman AFB, Missouri (B-2); 340th WPS at Barksdale AFB, Louisiana (B-52); and the 509th WPS at Fairchild AFB, Washington (KC-135).
U.S. Air Force Advanced Maintenance and Munitions Operations School: The mission of the U.S. Air Force Advanced Maintenance and Munitions Operations School at Nellis AFB is to prepare maintenance and munitions leaders for tomorrow's victories. U.S. Air Force AMMOS provides the Air Force's premier advanced maintenance training, expanding combat capability through graduate-level education. Graduates are producers as highly skilled tactical and operational maintenance officers and SNCOs, capable of effectively leading aircraft and munitions maintenance operations at home station or deployed. They can skillfully manage aircraft fleet-health and overall unit readiness challenges to ensure combat-ready weapons systems in support of an Air Campaign. Graduates will plan and execute a unit's flying hour program and can efficiently deploy forces to successfully accomplish expeditionary combat operations. They can design and execute munitions operations and production. Graduates are charged to effectively share their knowledge as mentors to their peers and subordinates. They also act as an advisor to wing leadership on aircraft and munitions maintenance at home station or deployed.
561st Joint Training Squadron hones the warfighter's capability by providing timely tactical lessons learned and current tactics, techniques and procedures to ensure training results in increased readiness and lethality. It is the focal point for a flexible, responsive and real time process that collects, vets, disseminates and integrates relevant and timely information and is a central source for current tactical doctrine and tactical resources.
United States Air Force Air Demonstration Squadron — Thunderbirds "America's Ambassadors in Blue," the Thunderbirds plan and present precision aerial maneuvers to exhibit the capabilities of modern high performance aircraft and the lofty degree of professional skill required to operate these aircraft in a precision aerial demonstration. Team members carry out their unique mission as a special salute to their brothers and sisters in arms who are fighting America's battles in air, space, and cyberspace. They have performed for more than 300 million people in all 50 states and many countries around the world.