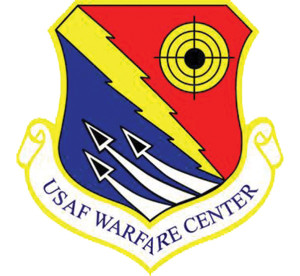 As we celebrate the 50th anniversary of the United States Air Force Warfare Center this year, it is important to reflect on the role the center has played over the last five decades.
Although it has had many names, the general concept of the Warfare Center's role within the Air Force has remained relatively constant: to shape the way the Air Force fights by focusing on the development of weapons systems and forces.
In the early 1960s, the U.S. Air Force identified the need for quick and comprehensive responses to evolving air warfare environments. From 1962 to 1966 five centers were established to provide expertise and resources to advance tactical weapons systems and those who use them. In 1966, as part of this process, the USAF Tactical Fighter Warfare Center was established at Nellis Air Force Base.
Over the course of the next 29 years this warfare center focused on tactical fighter operations while the other four centers focused on different facets of air power. This situation changed when, in 2005, the Chief of Staff of the Air Force directed that all warfare centers were to be combined into a single center at Nellis AFB under the newly-renamed Headquarters, USAF Warfare Center (HQ USAFWC).
The HQ USAFWC mission evolved to ensure Air Force priorities focus on the changing needs and integration requirements of air and space component commanders. The warfare center is also tasked to ensure these efforts are synchronized to enable efficient, effective and seamless employment across air, space and cyberspace domains. In order to provide these ever-improving capabilities each warfare center commander develops a set of priorities that provides a current expression of the historical mission. In 2016, this is represented in the target shown on page 32.
Mission: The current HQ USAFWC mission statement reflects the long-standing warfare center role of developing air power forces and weapons systems.
Focus: The focus areas represented in the outer red circle of the target help foster a healthy, respectful and safe culture that sets the foundation for success.
Priorities: The items in the yellow areas are the warfare center commander's top four priorities that work toward accomplishing the mission.
Goal: Finally, the center of the target—the bullseye—represents the main focus for the warfare center: growing Airmen leaders.
Vision: It is within this foundational culture, working through the difficult tasks set forth in the priorities that the warfare center will grow leaders who become those proud, professional, highly skilled and innovative Airmen represented in the vision statement.
Although Air Force culture has shifted focus throughout the years, and the priorities of the warfare center commanders have changed over time, at least one thing has been constant—the mission of the warfare, to shape the way our force fights, is impossible to accomplish without Airmen who have been deliberately developed to lead in the Air Force—now and into the future.
Airmen are airpower.