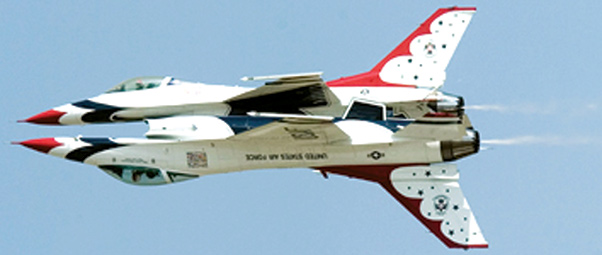 The U.S. Air Force Thunderbirds have the privilege and responsibility to perform around the world, displaying the pride, precision and professionalism of American airmen.
In every hour-long demonstration, the team combines years of training and experience with an attitude of excellence to showcase the U.S. Air Force history and values.
The sharply choreographed, drill-style ground ceremony begins the demonstration with attention to detail and esprit de corps that defines the enlisted members.
As the jets take off and fly only a few feet from wingtip to wingtip, the crowd experiences the tremendous skills and capabilities that all fighter pilots must possess.
The solo pilots integrate their own 'loud and proud' routine, exhibiting some of the maximum capabilities of the F-16 Fighting Falcon – the Air Force's premier multi-role fighter jet.
Millions of people have witnessed the Thunderbirds demonstrations, and in turn, have seen the pride, professionalism and dedication of hundreds of thousands of Airmen serving at home and abroad. Each year brings another opportunity for the team to represent those who deserve the most credit: the everyday, hard-working Airmen voluntarily serving America and defending freedom.
The Thunderbirds team is comprised of exceptional officers, enlisted personnel, the Show Line and dedicated civilians, otherwise known as "America's Ambassadors in Blue."
Through selfless dedication and commitment, these leaders represent today's U.S. Air Force Thunderbirds, each officer with a specific and crucial role in the team's broad mission. Eight of the 12 officers on the team are highly experienced fighter pilots.
Thunderbirds One through Six fly in the air show demonstrations; Thunderbird Seven is the operations officer; and Thunderbird Eight is the advance pilot and narrator describing the maneuvers during the show.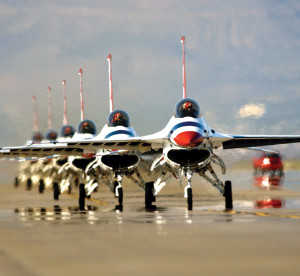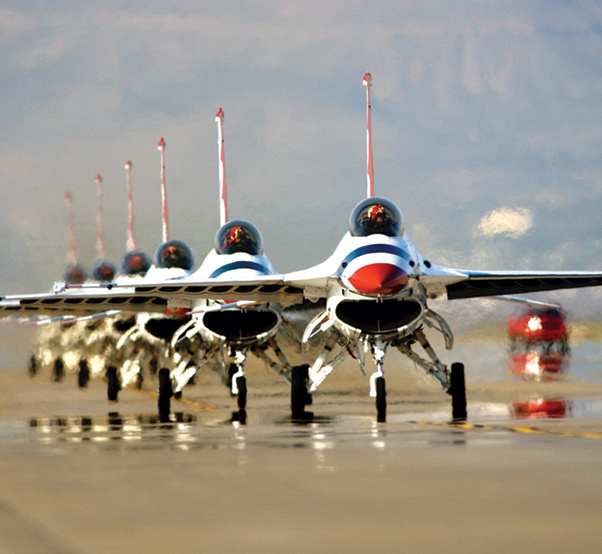 Thunderbirds Nine through Twelve are support officers performing expert medical, administrative, maintenance and public affairs functions.
A Thunderbirds officer serves a two-year tour of duty, and to ensure continuity and a smooth transition, three of the six demonstration pilots typically change each year.
More than 120 enlisted personnel, spanning nearly 30 career fields, form the backbone of the Thunderbirds. All enlisted members are selected from units across the Air Force in a highly competitive hiring process.
The Thunderbirds Show Line consists of 24 professionals in various aircraft maintenance specialties. They are selected before each demonstration season based on job proficiency, dedication to duty and overall attitude. A crew chief and assistant crew chief accompany each F-16 aircraft that travels, ensuring the jets are always mission ready.
Civilians are also vital members of the Thunderbirds team, including the air show coordinator Michael "Tedd" Rux and the commander's secretary, Maureen Walker.
Nellis Air Show welcomes the Thunderbirds and a riveting performance showcasing the pride and precision of the U.S. Air Force.