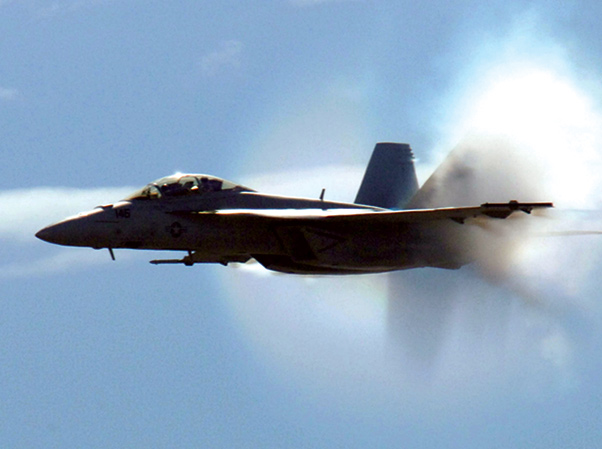 Air shows are the best place to see a VFA-122 Super Hornet in action.
The Tactical Demonstration, or "Tac Demo" team, flies the single-seat F/A-18E and two-seat F/A-18F as close to the "edge of the envelope" as safety and prudence allow. The routine highlights the Rhino's maneuverability and slow-speed handling characteristics and has been very well received around the country.
VFA-122 is the Fleet Replace Squadron for the F/A-18A-D Legacy Hornet and the F/A-18E/F Super Hornet.
The squadron is based at Naval Air Station LeMoore, California, and trains aircrew and maintenance personnel to fly and fix the Hornet and the Rhino.
An all-weather fighter and attack aircraft, the single-seat F/A-18 Hornet is the nation's first strike-fighter. It was designed for traditional strike applications such as interdiction and close air support without compromising its fighter capabilities. With its excellent fighter and self-defense capabilities, the F/A-18 at the same time increases strike mission survivability and supplements the F-14 Tomcat in fleet air defense. F/A-18 Hornets are currently operating in 37 tactical squadrons from air stations world-wide, and from 10 aircraft carriers. The U.S. Navy's Blue Angels Flight Demonstration Squadron proudly flies them. The Hornet comprises the aviation strike force for seven foreign customers including Canada, Australia, Finland, Kuwait, Malaysia, Spain and Switzerland.
The newest model, the Super Hornet, is highly capable across the full mission spectrum: air superiority, fighter escort, reconnaissance, aerial refueling, close air support, air defense suppression and day/night precision strike. Compared to the original F/A-18 A through D models, Super Hornet has longer range, an aerial refueling capability, increased survivability/lethality and improved carrier suitability.
The F/A-18 Hornet, an all-weather aircraft, is used as an attack aircraft as well as a fighter. In its fighter mode, the F/A-18 is used primarily as a fighter escort and for fleet air defense; in its attack mode, it is used for force projection, interdiction and close and deep air support.
The F/A-18 demonstrated its capabilities and versatility during Operation Desert Storm, shooting down enemy fighters and subsequently bombing enemy targets with the same aircraft on the same mission, and breaking all records for tactical aircraft in availability, reliability, and maintainability.