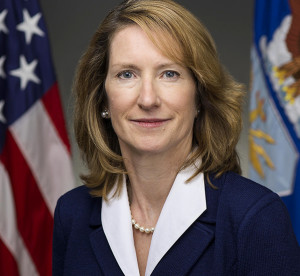 Under secretary of the Air Force Lisa S. Disbrow will serve as the acting secretary of the Air Force as of Jan. 20, until the President nominates and the Senate confirms a permanent replacement.
Under federal law, the under secretary automatically assumes the job of acting secretary until a replacement is confirmed. Disbrow succeeds Deborah Lee James, who served as secretary of the Air Force from Dec. 13, 2013, until Jan. 20.
"It is an honor to continue to serve our Airmen," Disbrow said. "I look forward to ensuring continuity during the transition and will continue to partner with our civilian and military leaders to support Air Force priorities."
The secretary is responsible for the affairs of the Department of the Air Force, including organizing, training, equipping and providing for the welfare of its more than 660,000 active-duty, Guard, Reserve and civilian Airmen and their families. She also oversees the Air Force's annual budget of more than $139 billion.