NELLIS AIR FORCE BASE, Nev. — National Doctors' Day was established to recognize physicians, their work, and their contributions to society and the community. National Doctors' Day falls on March 30 each year.
Though the holiday was officially signed into U.S. law in the early 1990s by President George H.W. Bush, observance of the day began in the early 1930s. Most civilian healthcare organizations utilize this day to advertise their great teams & awesome healthcare using ads in the paper/other news releases.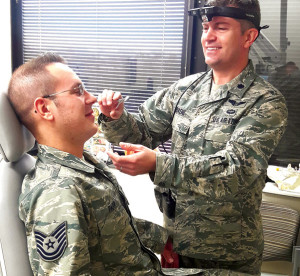 Lt. Col. Wesley Abadie
Otolaryngologist
Abadie is an Otolaryngologist assigned to the 99th Medical Group. After graduating from the United States Air Force Academy, he earned a degree of medicine from Vanderbilt University School of Medicine.
He was honored to be chosen as the flight surgeon for the USAF Weapons School, and also during this time deployed to Kirkuk, Iraq in 2006. Following this, he was selected to complete his residency in Otolaryngology at the San Antonio Uniformed Services Health Education Consortium, and five years later returned to Nellis.
He led the Surgical Specialties Flight as flight commander and has performed more than 700 operations at Mike O'Callaghan Military Medical Center.
Currently, he is the Chief of Surgery. Abadie finds the most rewarding thing about military medicine is the contribution to the mission. Having a medical center on base adds tremendous mission support capability to the Nellis AFB community and allows active duty personnel and their families' access to a full range of medical services that they might not even be able to receive downtown.
Also, the relationships with the patients are very rewarding on a personal and professional level. The greatest compliment is when a cancer patient drops by in December simply to say thank you for taking care of them for another year and for giving them the opportunity to spend another Holiday season with their families.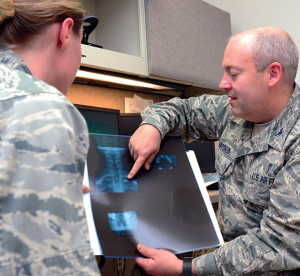 Col. Paul Crawford
Professor of Family Medicine Program Director
Nellis' Family Medicine Residency not only provides comprehensive patient care to Air Force beneficiaries, and provides 10 board-certified family physicians for the Air Force every year.
Crawford grew up in rural Pennsylvania and took advantage of the Air Force Health Professionals Scholarship to become a doctor. "I had a desire to show compassion to people," Crawford said when asked what motivated him to become a doctor.
"I have a constant desire to improve — the care I provide, the way we do business, the education of our learners," he added.
Crawford's most memorable or rewarding experience as a doctor is "Seeing people develop from wet-behind-the-ears medical students to resident physicians maturing into outstanding patient care providers and leaders to young faculty and, eventually, commanders and Residency Program Directors.
Crawford deployed to Kirkuk, Iraq, from 2005 to 2006, and completed short, humanitarian deployments to Peru and Paraguay. Additionally, he has made multiple volunteer trips to Thailand, Cambodia and Ecuador.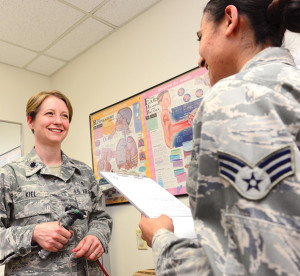 Lt. Col. Mary Kiel
Pediatrician
Kiel is currently one of six pediatricians at the Mike O'Callaghan Military Medical Center.
"I have been stationed at Nellis AFB for three and a half years," she said. "This has been the most challenging, yet most rewarding, position of my career thus far.
"I have the privilege of helping care for 7,800 children and teenagers, providing inpatient care to sick children and newborns, as well as teaching pediatric medicine to Family Medicine residents and Physician Assistant students. I work with a spectacular staff of enlisted members, in addition to outstanding officers and civilians."
Kiel is the daughter of a retired Air Force medic/first sergeant and considers herself extremely fortunate the Air Force helped fund her undergraduate education.
"I was later selected by the Air Force for a Health Professions Scholarship to attend medical school," she said. "Now I feel it is my responsibility to give back to the institution that supported me growing up and in my education. I became a pediatrician because I wanted to make a difference in children's lives, to help make them healthy and successful in their journey toward adulthood. Kids are so imaginative and fun! In the Air Force, taking care of kids means taking care of their parents who work hard to carry out the mission. If their children are healthy and safe, then parents have the peace of mind and focus required to do their jobs. Our Pediatric Clinic works hard to provide quality, thorough and timely care at every visit. We strive to carry out all of a patient's needs at each appointment to minimize unnecessary trips to the hospital.
"Our staff is passionate about child health, and we hope our patients (and their parents) realize how much we care about them and how hard we work to meet their needs."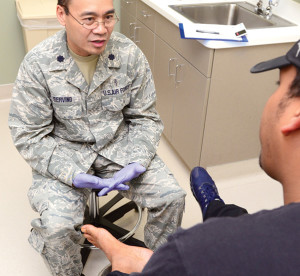 Lt. Col. Alexander Servino
Podiatrist
Servino is a podiatrist with the 99th Surgical Operations Squadron at Nellis and has been stationed here for almost two years.
Originally from Cape Cod, Massachusetts, Servino has been married for 23 years to "my best friend," Grace and they have three children. He received his degrees from Boston College and Kent State University College of Podiatric Medicine.
"To me joining the Air Force was a leap of faith," Servino said. "I was seven years in civilian practice, but realized I wasn't ready to settle down and 'itching' for a change. I knew I could handle military life again after serving my Army obligation as a podiatrist right after residency, but said if I was ever to go back in the military, I would go Air Force this time. Luckily, my better half agreed to our new adventure.
"After 18 years and five tours, I can honestly say it was all well worth it," he added. "Certainly, the positives have outweighed the negatives. I'm not so sure I would have had the same travel and professional opportunities in civilian practice not to mention the camaraderie of being part of something bigger than just myself or my profession. There is no greater calling than to help our fellow man and no higher profession held in such high regard in our society as the military … I've had the privilege of being part of both.