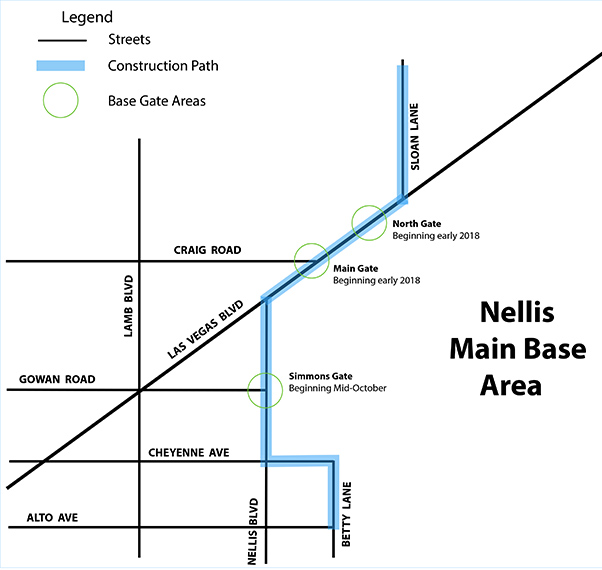 Beginning this month, base visitors and employees at Nellis Air Force Base, Nev., can expect delays entering and exiting the installation due to road construction.
The City of North Las Vegas completed a design and awarded a project to Contri Construction Company to construct the North East Sewer Interceptor that will run from the city's sewage treatment plant located at the south region of the base.
The project will be executed in two phases. The first phase will stop short of the base's Range Road gate and is scheduled for completion by May 2018.  The second phase will be scheduled at a later date.
The first phase will be performed on city streets off-base during the day with the exception of the work at the Gowan Road and Nellis Boulevard intersection which will be performed at night to avoid major traffic congestion during peak daytime hours; however, the construction will impact traffic lights, and incoming and outgoing vehicle traffic at the following base entry points:
* Simmons gate at the intersection of Gowan Road and Nellis Boulevard
* Main base gate at the intersection of Craig Road and Las Vegas Boulevard
* North gate on Las Vegas Boulevard
 
Residents should expect road construction on Betty Lane and Cheyenne Avenue, and continue North on Nellis Boulevard to Las Vegas Boulevard, with a continuation Northeast on Las Vegas Boulevard to Sloan Lane. (See attached key plan).  
 
For more information, call the 99th Civil Engineer Squadron at 702-652-3212.