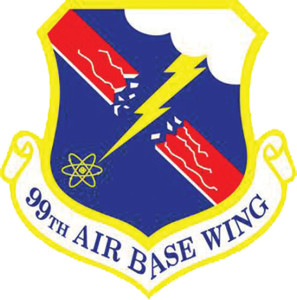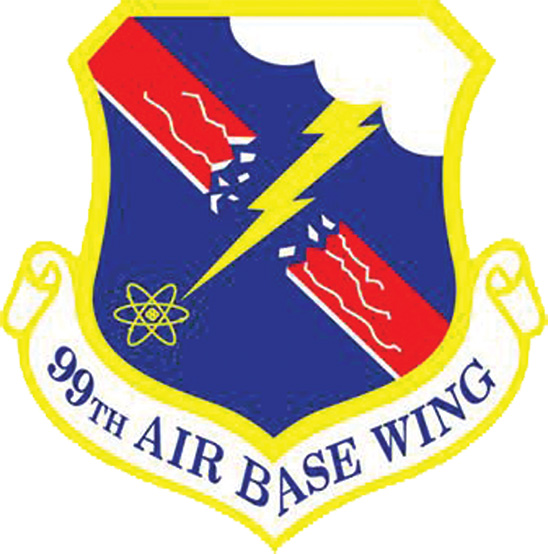 Mission
The 99th Air Base Wing, activated in October 1995, is the host wing for Nellis and Creech Air Force Bases located in Southern Nevada.
The wing provides installation support for more than 14,000 personnel assigned to Nellis AFB, Creech AFB, and the Nevada Test & Training Range. Three groups are assigned to the wing: 99th Mission Support Group, 99th Medical Group and the 799th Air Base Group.
• The 99th Comptroller Squadron is assigned directly to the wing and provides financial advice supporting Nellis AFB's peacetime and war-fighting missions through managing an operations and maintenance budget of $565 million and providing financial services assistance to assigned members.
• The Wing Staff Agencies are assigned directly to the Wing. WSA includes the Command Post, Chaplain, Historian, Inspector General, Plans, Programs Evaluation and Assessment, Public Affairs, Safety, Sexual Assault Prevention & Response, and Equal Opportunity.
• The 99th Mission Support Group provides civil engineer, communications, contracting, logistics readiness, personnel, security and services support for Nellis AFB, Creech AFB, and the Nevada Test and Training Range.
• The 99th Civil Engineer Squadron provides operations and maintenance, repair, design and construction support for facilities and infrastructure; fire prevention, protection and crash rescue; emergency management and disaster preparedness; real property transactions; environmental program management and compliance; explosive ordnance demolition; unaccompanied housing and oversight for privatized military family housing.
• The 99th Communications Squadron operates and maintains classified and unclassified base computer networks, wired and wireless telecommunications systems, cybersecurity oversight, cryptographic account management, and provides official mail distribution.
• The 99th Contracting Squadron executes acquisition strategy at Nellis, Creech, and the NTTR, serving as business advisers to senior leadership and mission partners, and administers the contract performance management program.
• The 99th Logistics Readiness Squadron provides vehicle management, deployment and distribution, traffic management, fuels management, supply operations and reception/bed-down/ redeployment of all forces participating in all Flag exercises and Weapon School training.
• The 99th Force Support Squadron oversees military and civilian personnel support, education services, enlisted professional education and family support along with lodging, food services, club management, fitness, mortuary affairs, base honor guard and recreational activities.
• The 99th Security Forces Squadron provides airfield security, police services, pre-deployment training/firing and antiterrorism/force protection for Nellis AFB and Creech AFB.
The 99th Medical Group provides medical care to Department of Defense and veterans beneficiaries to ensure maximum wartime readiness and combat capability.
Functions include aerospace medicine, surgical services, inpatient services, outpatient clinics and specialty care, mental health services, dental care, pharmacy, laboratory, pathology, radiology, dietetic and nutritional medicine, medical benefits, public health, and bioenvironmental services. Medical group squadrons include the following:
• The 99th Aerospace Medicine Squadron applies prevention and surveillance strategies that minimize the loss of man-hours and resources due to injuries, illnesses and environmental insults. Facilitates fitness, medical and occupational readiness for 10,000 Nellis and Creech AFB active duty personnel. Prepares medical forces for rapid mobilization and deployment to support global contingencies.
• The 99th Inpatient Operations Squadron delivers safe, evidence-based care in support of six Wings, 52 tenants and 238,000 Department of Defense and Veteran Affairs beneficiaries. The 24-bed multi-service, 14-bed labor and delivery, and 12-bed critical care unit, enables clinical competencies and maximizes integrated military operations support.
• The 99th Surgical Operations Squadron deploys surgical and support capabilities to the area of responsibility. Maintain skills and currency at home by providing care for DOD and VA beneficiaries.
• The 99th Medical Support Squadron provides resource management, personnel and administration, TRICARE operations and patient administration, medical information systems, medical logistics, nutritional medicine, pharmacy, laboratory and pathology, and medical readiness services for the 99th Medical Group.
• The 99th Medical Operations Squadron prioritizes patient safety, improving outpatient access to care, improving the health of our population and improving both patient and staff satisfaction. The 99th Medical Operations Squadron is comprised of most of the outpatient Primary and Specialty care services within the 99th MDG.
• The 99th Dental Squadron ensures dental readiness through delivery of the highest quality dental care. It also provides post-graduate training to new dental officers and laboratory technicians through the Advanced Education in General Dentistry Certified Dental Laboratory programs.
The 799th Air Base Group is comprised of two squadrons that enable success through innovative base support and training for Creech Air Force Base personnel and mission.
• The 799th Air Base Squadron delivers communications, engineering, force support, and logistics capabilities to enable projection of global combat power by the Creech AFB weapon system, epicenter of the RPA enterprise.
• The 799th Security Forces Squadron provides integrated defense for Creech AFB, which includes physical security, Anti-Terrorism, police services, investigations, electronic systems security, resource protection and military working dogs
Background
The 99th Air Base Wing traces its lineage to the 99th Bombardment Group activated on June 1, 1942, without personnel or equipment at Orlando Army Air Base, Florida. It quickly transferred to Gowen Field, Idaho, where it received its initial manning. After several more moves for training, the group, flying the B-17 Flying Fortress, distinguished itself while flying bombing missions beginning in May 1943 from Algeria against targets in Sardinia and, Sicily, Italy. In December 1943, the group moved to Italy, flying a total of 395 combat missions throughout Europe before inactivating in November 1945.
The 99th was re-designated and activated in the Air Force Reserve at Birmingham, Alabama, as the 99th Bombardment Group (very heavy) in 1947 and inactivated in 1949. In 1953, it was reactivated as the 99th Strategic Reconnaissance Wing based at Fairchild AFB, Washington, with the B/RB-36. Re-designated as the 99th Bombardment Wing, Heavy, in 1955, it moved to Westover AFB, Massachusetts, in 1956 and converted to the B-52, later adding the KC-135. It was inactivated in 1974.
It was reactivated at Ellsworth AFB, South Dakota, in 1989 as the 99th Strategic Weapons Wing. Several reorganizations and name changes occurred until September 1995, when it was inactivated and moved to Nellis AFB, where it was re-designated and activated as the 99th Air Base Wing on Oct. 1, 1995.
In addition to two Presidential Unit Citations and 14 campaign streamers earned by the 99th Bomb Group in World War II, the 99th Air Base Wing has earned a Meritorious Unit Award and eight Air Force Outstanding Unit Awards, adding to five earned at Westover AFB and Ellsworth AFB.