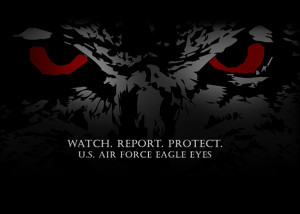 The safety and security of each installation falls on the observations of the Airmen, civilians and retirees who occupy it.
The Eagle Eyes program at Creech Air Force Base, Nev., is an anti-terrorism initiative that relies on the awareness of base occupants and connects them to the proper authorities.
Eagle Eyes encourages people to familiarize themselves with the categories of suspicious behavior and provides them with a network of local, 24-hour phone numbers to call if someone witnesses possible threats.
"It's a program in place to maximize the many eyes and ears of our Airmen," said Cristina, Office of Special Investigations special agent. "The ability to report suspicious activity, no matter how seemingly inconsequential, could make all the difference."
The Air Force OSI oversees Eagle Eyes and works alongside the other law enforcement agencies involved.
One Creech Airman, Tech. Sgt. Thomas, 432nd Aircraft Communications Maintenance Squadron MQ-1 Predator and MQ-9 Reaper Ground Control Station NCO in charge, noticed a commercial drone flying near the base when driving home one afternoon. Thomas called on previous training to recognize that something wasn't right. He reported the suspicious incident and, by doing so, assisted security forces in preventing a possibly dangerous situation.
For helping to ensure the safety of the base, Thomas was recognized by the 799th Air Base Group commander, Col. Douglas F. Tippet.
"It was my honor to recognize Tech. Sgt. Thomas for his Eagle Eyes reporting," said Tippet. "His vigilance and quick reaction enabled our defenders to respond to an off base threat. They deployed our new counter drone capabilities before the unauthorized drone could penetrate active airspace or endanger the 432nd Wing's remotely piloted aircraft of Creech AFB."
This is just one example of how Eagle Eyes has provided an extra level of security for the Air Force and kept its members safe. Eagle Eyes takes some of the responsibility on OSI, security forces or any law enforcement, and gives it to everyone who is involved in base operations.
"It's not necessarily someone in a leadership position or in security forces, it's each Airman," said Col. Julian C. Cheater, 432nd Wing and 432nd Air Expeditionary Wing commander. "Eagle Eyes has enabled vigilant Hunters, Diamondbacks and Airmen across the Air Force to report when they notice something that doesn't look right."