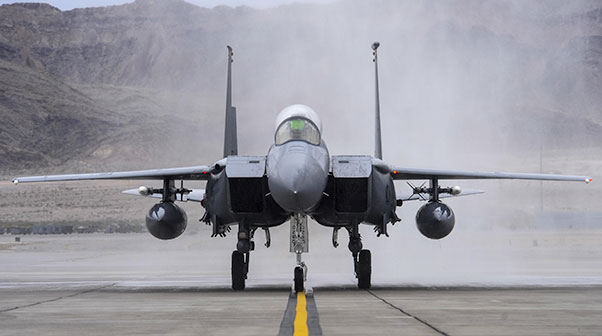 The U.S. Air Force has kicked off its largest three-week premier air-to-air combat training exercise, Red Flag 18-1. The exercise began Jan. 26 and will conclude Feb. 16.
Base officials want to remind Southern Nevada residents will notice increased military aircraft activity due to aircraft departing from Nellis Air Force Base, NEv., twice-a-day to participate in training exercises on the Nevada Test and Training Range.
"We're trying a few new and different things with Red Flag 18-1," said Col Michael Mathes, 414th Combat Training Squadron commander. "It's the largest Red Flag ever with the largest number of participants, highlighting the balance of training efficiency with mission effectiveness."
While Red Flag occurs in multiple iterations annually, each one has a unique training purpose – 18-1 is no exception.
"Red Flag 18-1 primarily is a strike package focused training venue that we integrate at a command and control level in support of joint task force operations," said Mathes. "It's a lot of words to say that we integrate every capability we can into strike operations that are flown out of Nellis Air Force Base."
The training offered during Red Flag has prepared armed forces for future engagements.
 "Red Flag remains a great mix of heritage and future potential," said Mathes. "We are very proud of our heritage with the way that red flag had improved survivability and readiness over the years. We look forward as we continue to grow readiness through integrated training as well as improving training efficiency."
The exercise typically involves a variety of attack, fighter and bomber aircraft as well as participants from the U.S. Air Force, U.S. Navy, U.S. Army, Marine Corps, Royal Australian Air Force and Royal Air Force.