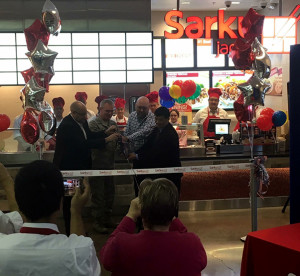 The Army & Air Force Exchange Service celebrated the grand opening of Sarku Japan, the latest addition to the Nellis Air Force Base Exchange food court, March 2.
Col. Paul Murray, 99th Air Base Wing commander; Exchange General Manager Matthew Beatty; Michael Tang, Southwest Area Manager, Sarku Japan; and Tim Pettifer, Director of Construction, Sarku Japan, cut the ribbon on the restaurant, which offers teriyaki chicken, beef and shrimp.
"The Exchange makes it convenient for Airmen and military families at Nellis AFB to make the right meal choices for them," said Exchange General Manager Matthew Beatty. "No matter your taste, there is a restaurant for your meal plan at the Exchange."
The restaurant is the fourth Sarku Japan to open at an Exchange. Sarku Japan chefs prepare made-to-order signature teriyaki recipes on a Teppanyaki grill in open view for guests to enjoy.
"Having recently returned from being overseas in Korea and Japan over the past four years, it is great to see the Exchange is expanding its food providers in support of us Airmen," said Staff Sgt. Jason Schwartz, 57th Munitions Squadron.
The new restaurant fits in with the Exchange's priority of bringing name-brand restaurants with better-for-you menus to service members to support Airmen readiness and resiliency. The Exchange is an active partner in the Air Force Smart Fueling initiatives, transforming its food courts worldwide and focusing on a holistic BE FIT lifestyle for service members.
The Nellis AFB Exchange food court is at 5691 Rickenbacker Road. Sarku Japan is open from 9 a.m.-8 p.m., Monday through Saturday, and 10 a.m.-6 p.m., on Sundays. For more information, call 702-651-0059.