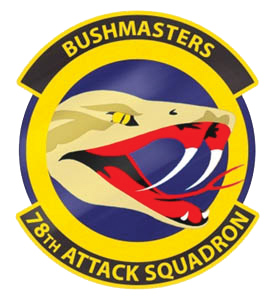 In the 100 years since its activation, the 78th Attack Squadron, now at Creech Air Force Base, Nev., has taken on a myriad of missions and locations.
It now maintains combat-ready reservists who conduct MQ-1 Predator and MQ-9 Reaper Remotely Piloted Aircraft training, as well as, integrated and expeditionary combat operations.
The unit first activated as the 78th Aero Squadron, Feb. 28, 1918 at Waco Field, Texas, responsible for training Airmen for other flying squadrons in the JN-4, JN-6 and S-4, which are biplane trainer aircraft built during World War I.
On Nov. 15, 1918, four days after the armistice ended the Great War, the 78th AS demobilized, but airpower had made its mark.
Another 78th, the 78th Observation Squadron, stood up on Oct. 18, 1927 to continue the work according to Mr. Theodore, 432nd Wing/432nd Air Expeditionary Wing historian.
"Proud Airmen with the 78th served as initial trainers (during and) directly following WWI when the airplane was first emerging as a military weapon and they have continued to answer when called to defend our nation," said Lt. Col. Jason, 78th ATKS commander.
On April 1, 1931 the former 78th AS returned to service as the 78th Pursuit Squadron at France Field, Panama Canal Zone.
In 1933, the Air Corps honored the 78th OS' post-war efforts by consolidating the history of the two units. The newly consolidated 78th later inactivated in 1937, but was again called to action during World War II.
"The 78th once executed the longest, at the time, over-water flight to Midway Island to provide critical aerial defense during World War II," Jason said. "They later flew combat patrols to support Marines at Iwo Jima and long-range bomber escorts to Japan, and some of the first jet aircraft in a new interceptor mission in Europe at the start of the Cold War."
By late 1946, the unit had relocated more than 10 times, received four redesignations and flew combat missions in World War II until its inactivation in October as the 78th Fighter Squadron.
Over the next 46 years, the squadron was redesignated multiple times as a fighter-bomb squadron, a tactical fighter squadron and a fighter-interceptor squadron which flew various aircraft including F-101s, F-4s and A-10s while overseas until its inactivation May 15, 1992.
It was activated in 1994 at Shaw AFB, S.C., and flew F-16 aircraft before inactivating again in 2003.
The squadron was finally activated as an Air Force Reserve Command unit at Creech in June 2006 as the 78th Reconnaissance Squadron until 2010, when it was renamed the 78th ATKS.
"The 78th has a tradition of being there when needed and being the solid foundation for (total force) to rely on," said Chief Master Sgt. Nathan, 78th ATKS command chief. "We provide a steady flow of combat aviators, who not only contribute to the fight daily, but also help develop some of the next generation (total force) leaders."
Now, the Bushmasters serve on the cutting edge of remotely piloted airpower, providing revolutionary intelligence, surveillance, reconnaissance (ISR) and strike capabilities to support ground forces in missions around the world.
The 78th has played a role in numerous fights, trained successful aircrew from biplanes to fighters to RPAs and plans to continue providing the necessary support to ensure the safety of our nation for years to come.
"Our squadron gains, trains, and maintains the very best RPA aircrews, intelligence experts, and mission support personnel, providing important continuity of expertise to a premier Air Force wing executing a top-priority and rapidly changing mission," said Jason. "I am humbled to be part of such a long line of excellence and thankful to help our team continue it."