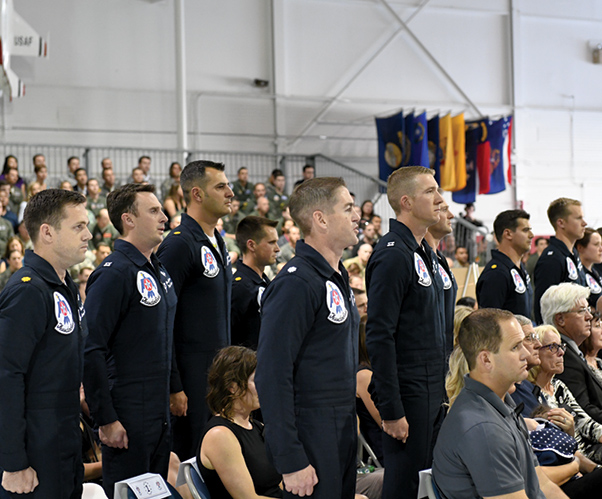 On April 11, the Thunderbirds commemorated the life of Maj. Stephen "Cajun" Del Bagno, Thunderbird 4/Slot Pilot, at a Thunderbird Memorial service at Nellis Air Force Base, Nev.
Del Bagno died April 4 when his F-16 Fighting Falcon crashed at the Nevada Test and Training Range. He hailed from Valencia, Calif.
Cajun was laid to rest during a public funeral service April 15 at Saugus High School in Santa Clarita, Calif. During the funeral, Del Bagno received full military honors, including a 21-gun salute, taps and a flyover of F-35 Lightning IIs and F-16 Fighting Falcons.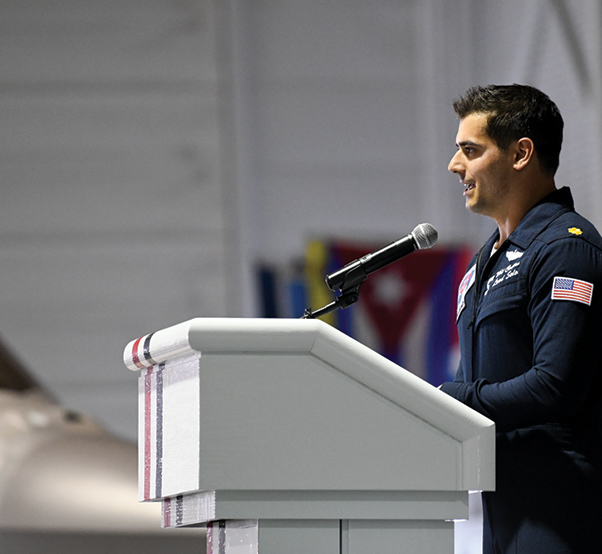 "We remember Cajun as an Airman, a warrior, a talented fighter pilot and a great friend," said Lt. Col. Kevin Walsh, Thunderbirds commander, "with more than 3,500 flight hours in more than 30 different aircraft. He lived to fly and inspire the next generation.
"We ask that you continue to keep Cajun and his family in your thoughts."
Del Bagno was a 2005 graduate of Utah Valley State University, and commissioned from Officer Training School, Maxwell AFB, Ala., in 2007. Before joining the Air Force, Del Bagno was a civilian flight instructor, corporate pilot, skywriter and a banner tow pilot.
Before joining the Thunderbirds, Del Bagno served as an F-35A Evaluator Pilot and Chief of Standardization and Evaluation, 58th Fighter Squadron, Eglin AFB, Fla. The 2018 season was his first with the team.