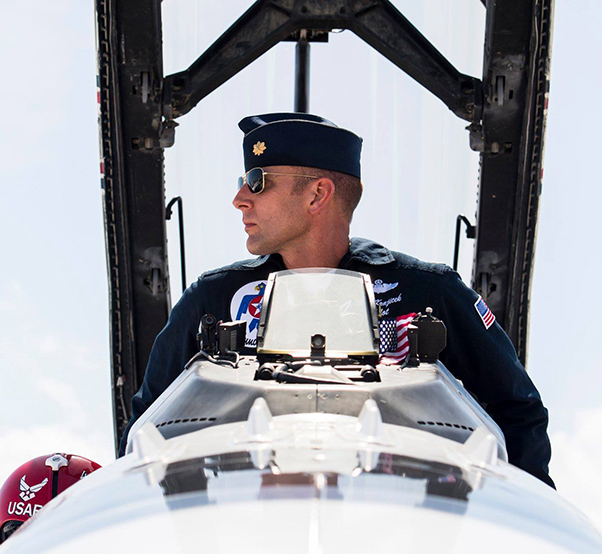 Maj. Nick "Khan" Krajicek has been named as the U.S. Air Force Air Demonstration Squadron's Thunderbird 4/Slot Pilot for the remainder of the 2018 show season.
Krajicek is an experienced Thunderbird alumnus who performed as the Slot Pilot during the 2016 and 2017 show seasons.
"We're grateful to have Khan coming back to the team," said Lt. Col. Kevin Walsh, Thunderbird 1, commander/leader. "His experience and familiarity with our team's mission and the demonstration profile make him the right choice as we safely make our way back on the road to recruit, retain and inspire once more."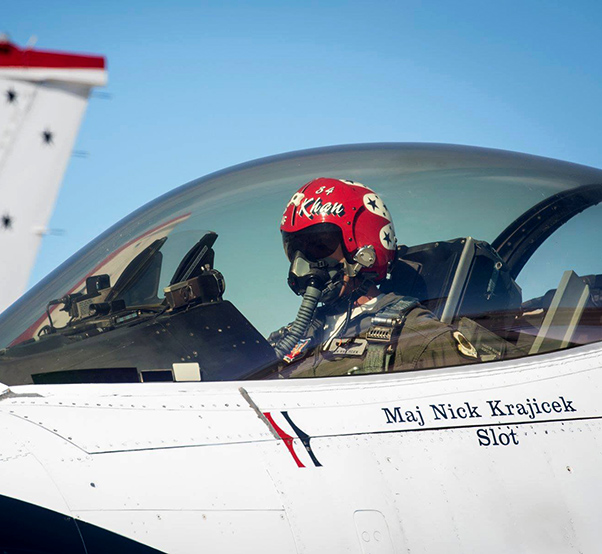 To facilitate Krajicek's requalification training, the Thunderbirds' participation at the Charleston Air Show [South Carolina] and the Fort Lauderdale [Florida] Air Show have been canceled.
The team's participation in the Laughlin AFB [Texas] Air Show and the Air Power over Hampton Roads [Virginia] air shows are being evaluated and are dependent on the team's readiness to perform a safe 6-ship aerial demonstration.
Krajicek has logged more than 3,400 flight hours as a military pilot, with more than 650 hours of combat experience. He flew UH-60 Blackhawks in the Army, is an F-16C/D Fighting Falcon instructor pilot and commissioned into the Air Force in 2004.