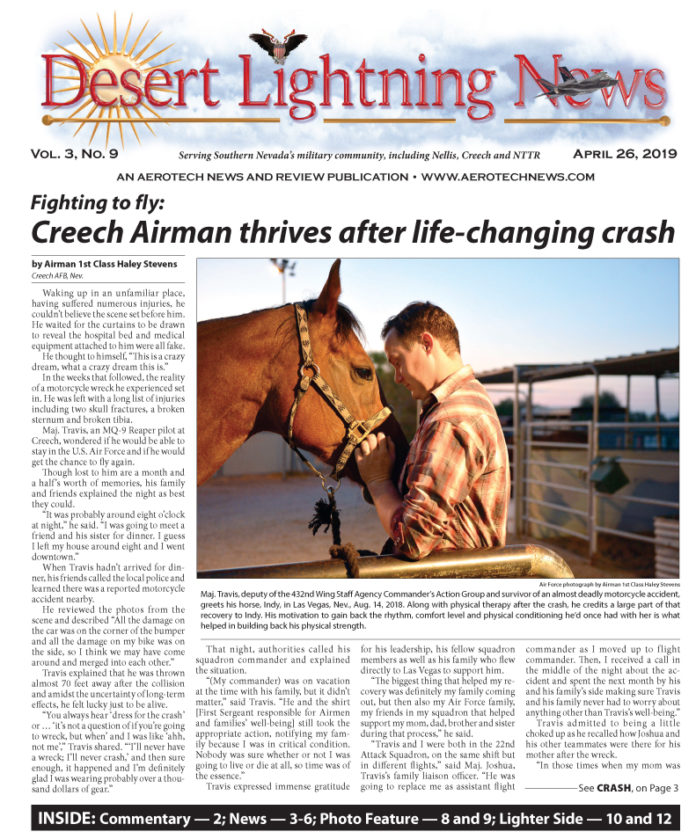 Desert Lightning News Nellis-Creech AFB – Serving Nellis AFB, Creech AFB, Las Vegas NV and surrounding communities – April 26, 2019
Click the thumbnail below to view the April 26, 2019 digital edition.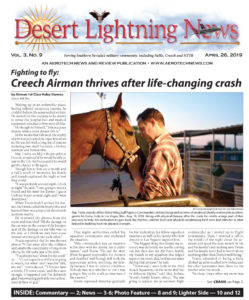 Thanks for checking out the April 26 edition of Nellis-Creech AFB Desert Lightning News! Coming off the recent Easter holiday, it seems appropriate that our cover story this week is something personal and inspiring, highlighting the values of our Air Force family. "The biggest thing that helped my recovery was definitely my family coming out, but then also my Air Force family…" says Maj. Travis of Creech AFB, survivor of a near-deadly motorcycle wreck almost two years ago. Click on the link below to read his story of resilience and perseverance in his recovery process, in this week's issue of Desert Lightning News.
http://online.flipbuilder.com/vzwd/ygaq/
Here are some more highlights from this week's issue:
Creating high performance through job satisfaction – page 2
Nellis Airman wins ACC award – page 4
Nellis and Creech personnel carry the flag at LV Ballpark opener – pages 8 & 9
All this and more, in this week's edition of Desert Lightning News! Pick up a copy of the paper at our usual distribution points on base and in surrounding communities this weekend, and "Like" our Facebook page for daily updates on news coming out of Nellis and Creech AFBs, as well as other military and defense installations in the desert southwest. It is our privilege to serve you – have a great weekend! #aerotechnews #nellisafbnews #creechafbnews