Air Force officials have selected 530 out of 2,529 eligible senior master sergeants for promotion to chief master sergeant in the 19E9 promotion cycle–a selection rate of 20.96 percent.
This was the first senior noncommissioned officer promotion cycle in which the promotion board focused strictly on performance, as the Air Force eliminated the requirements for promotion testing and points for decorations this past January.
The board members scored records using the current score process as well as reviewing the last five years' of evaluations and all awards and decorations. The average board score for those selected was 396.69. Selectees' average time in grade was 2.94 years and time in service was 21.41 years.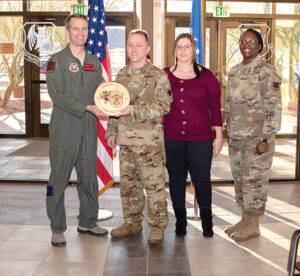 "This promotion board validated that we're selecting the right Airmen to serve in our highest enlisted rank," said Chief Master Sgt. of the Air Force Kaleth O. Wright. "With performance as the driving factor that we consider when selecting our senior NCOs, Airmen can be sure that only those with the strongest leadership potential will earn the promotion they deserve."
The chief master sergeant promotion list is available at https://www.afpc.af.mil/Promotion/Enlisted-Promotions/ on the Air Force's Personnel Center website, the Air Force Portal and myPers. Airmen can access their score notices on the virtual Military Personnel Flight via the AFPC secure applications page.
Those selected will be promoted beginning Jan. 1, 2020, according to their promotion sequence number. Prior to posting the list, AFPC provided commanders, senior raters and trusted agents with advanced knowledge of their Airmen's selection.