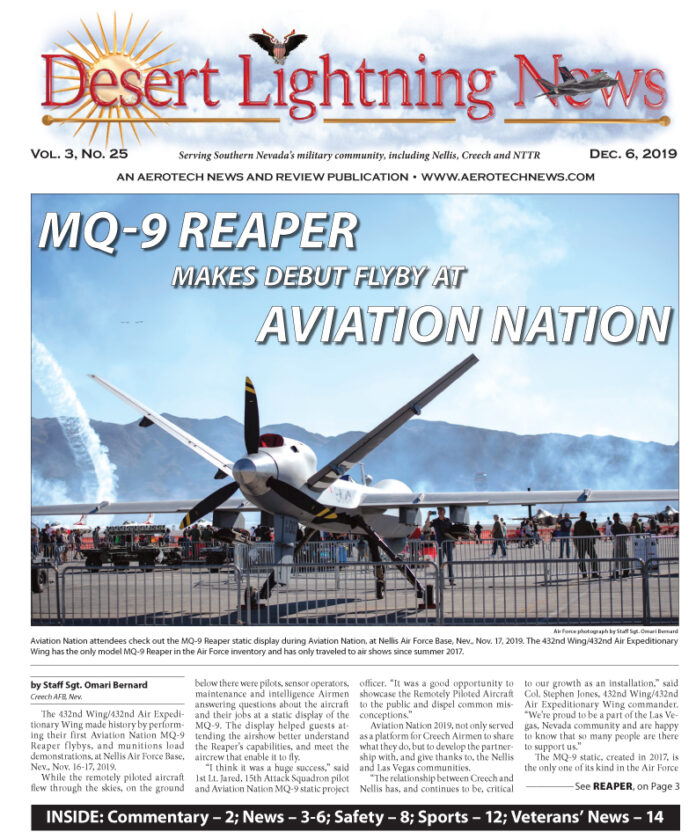 Desert Lightning News Nellis-Creech AFB – Digital and Print Publication Serving Nellis AFB, Creech AFB, Las Vegas NV and surrounding communities. An AerotechNews.com Publication. – December 6, 2019
Click on the image below to view this week's digital edition.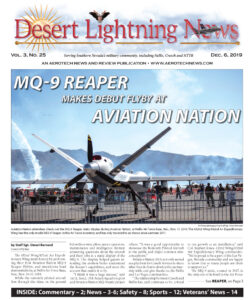 Hello, everyone – welcome to the December 6th edition of Nellis-Creech AFB Desert Lightning News! For those of you who CAN'T GET ENOUGH of Aviation Nation, we have a treat for you on our cover this week: a look at the debut flyby of the MQ-9 Reaper! The Reaper joined the air show circuit in 2017 as a static display, but this is the first time the general public has had an opportunity to see it in the air. Aviation Nation makes history AGAIN! Click on the link below to read this and other stories in your digital copy of Desert Lightning News, viewable on your desktop or mobile device.
http://online.flipbuilder.com/vzwd/ukvf/
Here are some more highlights from this week's issue:
AF leaders, Native Americans discuss future of NTTR: page 4
Air Force Weapons School graduates first class of Space Warfighters: page 6
Photo Feature – Nellis leadership serves Thanksgiving dinner: pages 10 & 11
Family finds relief through VA Caregiver Support program: page 14
Nellis Living/ Movie Schedule: page 16
All this and much more, in this week's edition of Desert Lightning News! Pick up a copy of the paper at our usual distribution points on base and in surrounding communities starting December 6th, and "Like" our Facebook page for daily updates on news coming out of Nellis and Creech AFBs, as well as other military and defense installations in the desert southwest. It's a privilege to serve you – have a safe and restful holiday! #aerotechnews #nellisafbnews #creechafbnews