Desert Lightning News Nellis-Creech AFB – Digital and Print Publication Serving Nellis AFB, Creech AFB, Las Vegas NV and surrounding communities. An AerotechNews.com Publication. – December 20, 2019
Click on the image below to view the latest edition.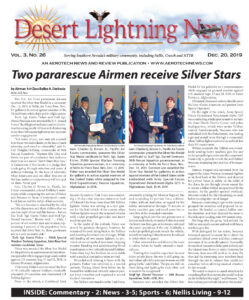 Hello, fans and friends – welcome to the December 20th edition of Nellis-Creech AFB Desert Lightning News! Nellis AFB salutes Silver Star recipients Tech. Sgt. Gavin Fisher and Staff Sgt. Daniel Swensen. The Airmen were awarded the U.S. Armed Forces' third-highest military combat decoration for saving nearly 40 lives and eliminating more than 100 enemy fighters in two separate combat engagements. OUTSTANDING! Your service and sacrifice are greatly appreciated. Click on the link below to read the full story in your digital copy of Desert Lightning News, viewable on your desktop or mobile device.
http://online.flipbuilder.com/vzwd/onvs/
Here are some more highlights from this week's issue:
Veterans need VHIC for base access and shopping privileges: page 3
Pac West Military Basketball Conference at Nellis: page 6
Photo Feature – Nellis aircraft take to the skies for Weapons Integration: page 8
Nellis Living/ Holiday Operating Hours/ Worship Schedule: pages 9 -12
All this and much more, in this week's edition of Desert Lightning News! Pick up a copy of the paper at our usual distribution points on base and in surrounding communities starting December 20th. "Like" our Facebook page for daily news updates and visit our website, www.aerotechnews.com, for the latest defense, military and aerospace news coming out of Nellis and Creech AFBs, as well as other military and defense installations in the desert southwest. It's our privilege to serve you – have a joyous and blessed holiday season! #aerotechnews #nellisafbnews #creechafbnews