January 29 — A Royal Australian Air Force (RAAF) FA-18A Hornet participates in Red Flag 19-1 at Nellis Air Force Base, Nevada, Jan. 29, 2019. Red Flag is one of a series of advanced training programs administered by the U.S. Air Force Warfare Center and Nellis AFB.






Feb. 6 — F-35A Lightning II fighter jets assigned to the 388th Fighter Wing's 4th Fighter Squadron taxi during Red Flag 19-1, Nelllis Air Force Base, Nev., Feb. 6, 2019. Pilots and maintainers from the 388th Fighter Wing's 4th Fighter Squadron and 4th Aircraft Maintenance Unit are participating in Red Flag 19-1 at Nellis AFB, Nevada. This is the wing's second Red Flag with the F-35A, America's most advanced multi-role fighter, which brings game-changing stealth, lethality and interoperability to the modern battlefield. Red Flag is the Air Force's premier combat exercise and includes units from across the Air Force and allied nations. The 388th is the lead wing for Red Flag 19-1.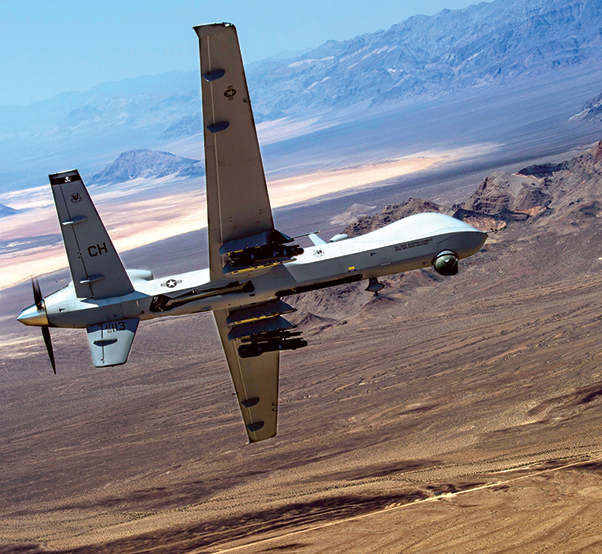 March 1 — An MQ-9 Reaper remotely piloted aircraft performs aerial maneuvers over Creech Air Force Base, Nev. The MQ-9 Reaper is an armed, multi-mission, medium-altitude, long-endurance remotely piloted aircraft that is employed primarily as an intelligence-collection asset and secondarily against dynamic execution targets. The MQ-1B Predator and MQ-9 Reaper remotely piloted aircraft reached a historic flight hour milestone March 1.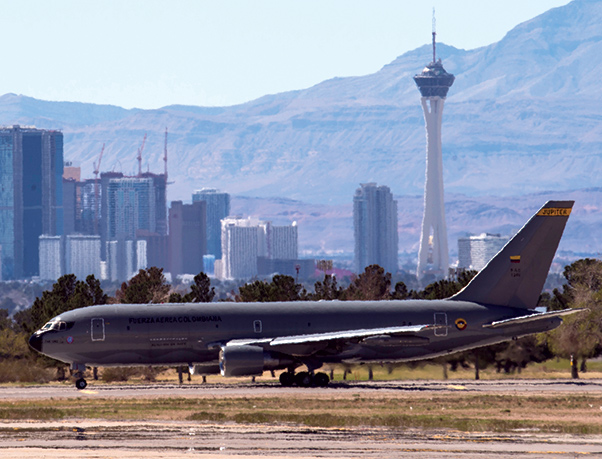 March 11-22 — Colombian Air Force Multi-Mission Transport Tanker Jupiter 767 taxies during Red Flag 19-2 on the flightline at Nellis Air Force Base, Nev., with the Las Vegas skyline in the background March 14, 2019. This is the Colombian Air Force's third time participating in a Red Flag exercise. They previously participated in 2012 and 2018 with their Kfir fighter jets and MMTT Jupiter 767. Red Flag 19-2 has a diversity of participants from around the globe to include Colombia, Belgium, Netherlands, Saudi Arabia, Singapore, United Arab Emirates and U.S. joint forces.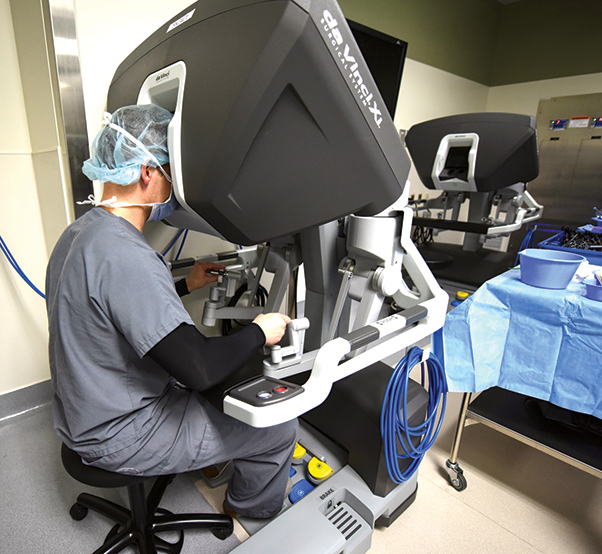 April 3 — Maj. (Dr.) William Scott, 99th Surgical Operations Squadron general surgeon, operates the da Vinci Surgery System during a surgery at the Mike O'Callaghan Military Medical Center, Nellis Air Force Base, Nev.. The da Vinci is a robotic surgery system which enables surgeons to perform various types of complex procedures with heightened precision and accuracy.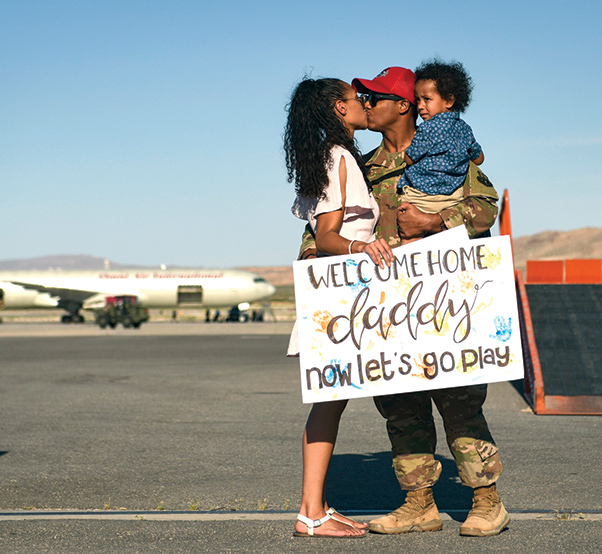 May 2 — An Airman assigned to the 820th RED HORSE Squadron is welcomed home from deployment by his family at Nellis Air Force Base, Nev.,
May 2, 2019. The 820th Red Horse Airmen were deployed for six months.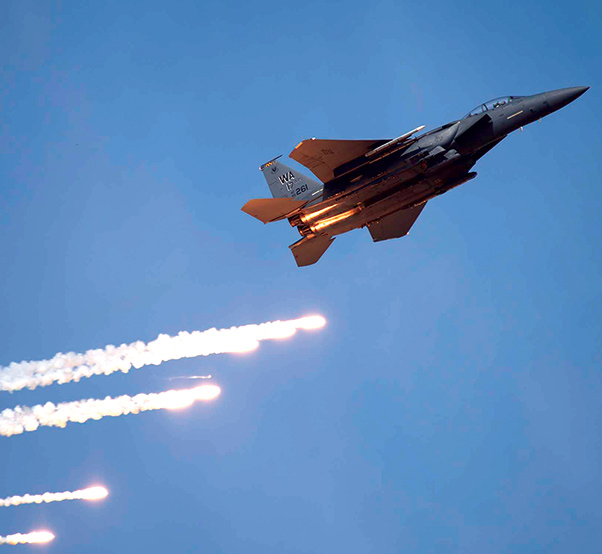 May 23 — An F-16 Fighting Falcon fighter jet made its initial flight after receiving the first U.S. Air Force "Ghost" paint scheme.
The design was chosen by a poll held by Brig. Gen. Robert Novotny, 57th Wing commander, on his social media account to add a new look to the 64th Aggressor Squadron.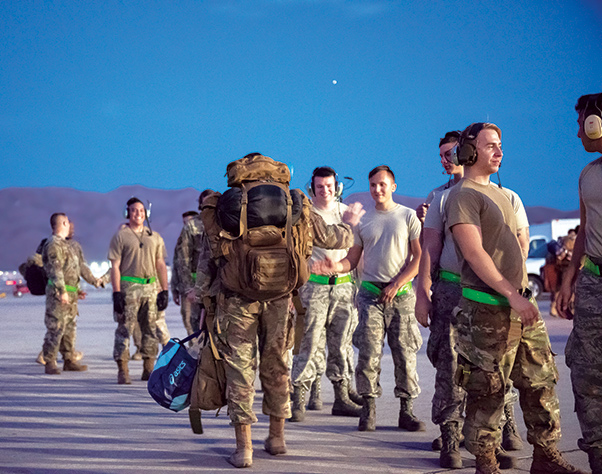 June 14 — An Airman assigned to the 855th Aircraft Maintenance Squadron, high-fives his coworkers at Nellis Air Force Base, Nev., after returning from deployment. Members, including the commander, from the 855th AMXS met the returning Airman on the flight line to welcome the Airmen home. The Airmen were deployed for six months.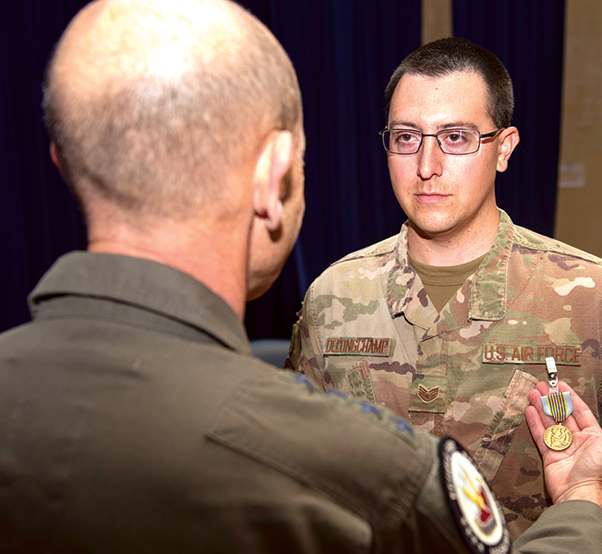 July 12 — Staff Sgt. Kenneth Delongchamp, a 99th Security Forces Squadron Defender, is awarded the Airman's Medal by Gen. Mike Holmes, commander of Air Combat Command, at Nellis Air Force Base, Nev. Delongchamp received the Airman's Medal for exhibiting heroism during the Route 91 Harvest Festival shooting Oct. 1, 2017, in Las Vegas.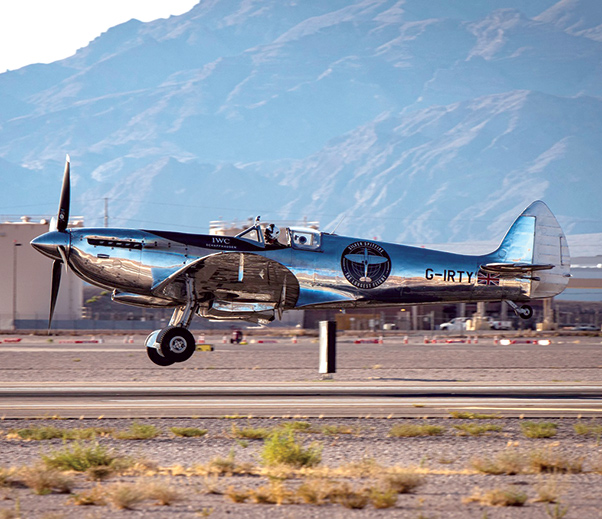 Aug. 26 — The Silver Spitfire lands at Nellis Air Force Base, Nev., as part of its round-the-world journey. "The Silver Spitfire – The Longest Flight" is an attempt by two pilots, Matt Jones and Steve Brooks, to fly the iconic aircraft around the world. To date, the plane has made several stops in the United States including New York, Texas, Las Vegas and Mojave. Following the stop in Mojave, the aircraft flew over Los Angeles on its way to San Francisco.





Sept. 12 — Col. Todd Tobergte, 926th Operations Group commander, addresses the audience during an unveiling ceremony for the 926th Operations Group's first flagship of the Air Force Reserve's 926th Wing at Nellis Air Force Base, Nev. This is the first flagship of the 926th Wing since its arrival at Nellis AFB in August 2007. During the ceremony, an F-16 Fighting Falcon assigned to the active duty's 64th Aggressor Squadron was unveiled with the group's shield and commander's name.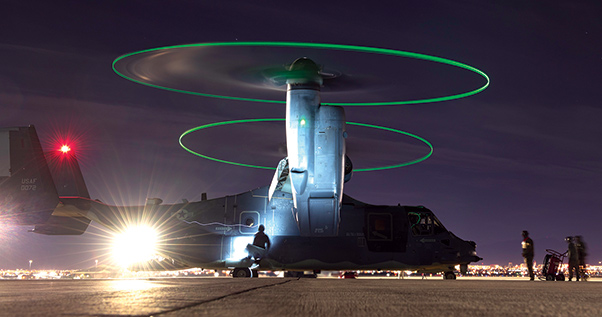 Oct. 11 — A CV-22B Osprey tiltrotor aircraft assigned to the 8th Special Operations Squadron, Hurlburt Field, Fla., prepares to take off at Nellis Air Force Base, Nev. The CV-22B is a tiltrotor aircraft that combines the vertical takeoff, hover and vertical landing qualities of a helicopter with the long-range, fuel efficiency and speed characteristics of a turboprop aircraft.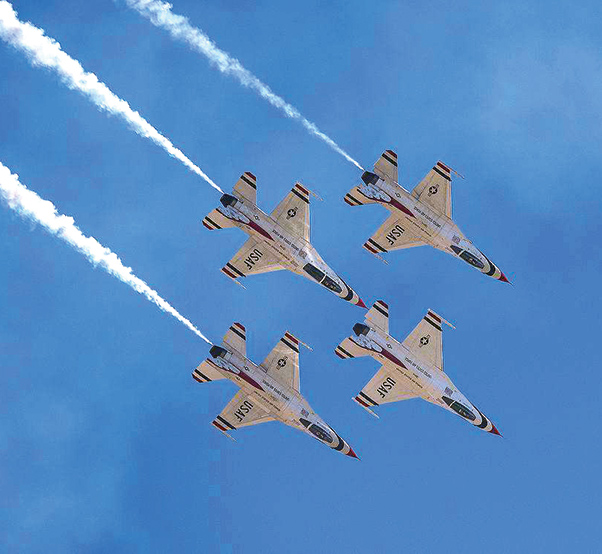 Nov. 15 & 16 – The Thunderbirds ended their 2019 season performing at Nellis Air Force Base's Aviation Nation. Nellis the Thunderbirds homebase.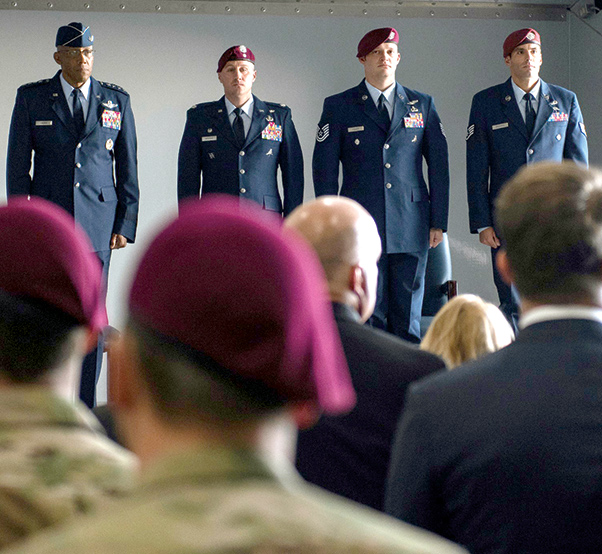 Dec. 13 — Gen. Charles Q. Brown Jr., Pacific Air Forces commander, Lt. Col. Douglas Holliday, 58th Rescue Squadron commander, Tech. Sgt. Gavin Fisher, 350th Special Warfare Training Squadron pararescueman, and Staff Sgt. Daniel Swensen, 58th Rescue Squadron pararescueman, stand at attention during a ceremony at Nellis Air Force Base, Nev. Fisher and Swensen received the Silver Star Medal for gallantry in action against enemies of the United States while deployed to Afghanistan.