Aerotech News and Review – Journal of Aerospace, Defense Industry and Veteran News, serving the Antelope Valley and Edwards AFB, CA – August 17, 2018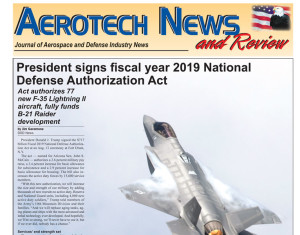 Aerotech News Digital Edition – August 17, 2018
Welcome to the Aerotech News and Review Digital Edition! The Fiscal 2019 National Defense Authorization Act, which the president signed at a ceremony at Fort Drum, N.Y. this week, contains many funding provisions that directly impact programs here in Aerospace Valley. The John S. McCain, Jr. National Defense Authorization Act provides pay and benefit increases for military personnel, fully funds development of the B-21 bomber, provides funding for additional F-35 joint strike fighters and much more. The 2019 spending plan enjoys bi-partisan support and is one of the largest in modern American history. Read more about it in our cover story.
Also in the news this week, we mark the retirement of Gregory C. "Ray J" Johnson from NASA. Johnson flew the space shuttle and numerous other aircraft during his career as a pilot with NASA and the US Navy. He is a graduate of the U.S. Air Force Test Pilot School at Edwards Air Force Base. Click through to page 5 for that story.
On page 10, we have an outstanding feature for you on work done this summer by student interns at NASA's Armstrong Flight Research Center. A team of ten interns, guided by Armstrong Chief Scientist Al Bowers, have worked diligently for two summers to develop and test various components of the subscale Prandtl-D 3C glider. Bowers believes the aerodynamic theories being tested by this group of young engineers will "truly change the way the world works."
And moving from the future of aviation, to a look back at a pilot who honed his skills in the skies over the Antelope Valley, Bob Alvis introduces us to Steve Pisanos in this week's installment of High Desert Hangar Stories. The story of Pisanos' early career and training at Polaris Flight Academy in this issue sets us up for a "to be continued" that promises to feature legendary names like Edward R. Murrow, Walter Cronkite, and a special meeting with a childhood hero. So, dive into that on page 8, and stay tuned for more to come – all this and much more, in this week's edition of Aerotech News!
Hard copies of the paper are available at our usual delivery points throughout the Antelope Valley – pick one up when you're out and about this weekend, or click on the link below and access a digital copy of Aerotech News, viewable on your computer or mobile device. "Like" our Facebook page for daily news updates and access to our website, story and photo archives. Don't forget – Plane Crazy Saturday at Mojave Air and Space Port on August 18th, featuring Scaled Composites engineer Dan Kreigh. See page 12 for more information – have a great weekend! #aerotechnews #eafbnews #planecrazysaturday