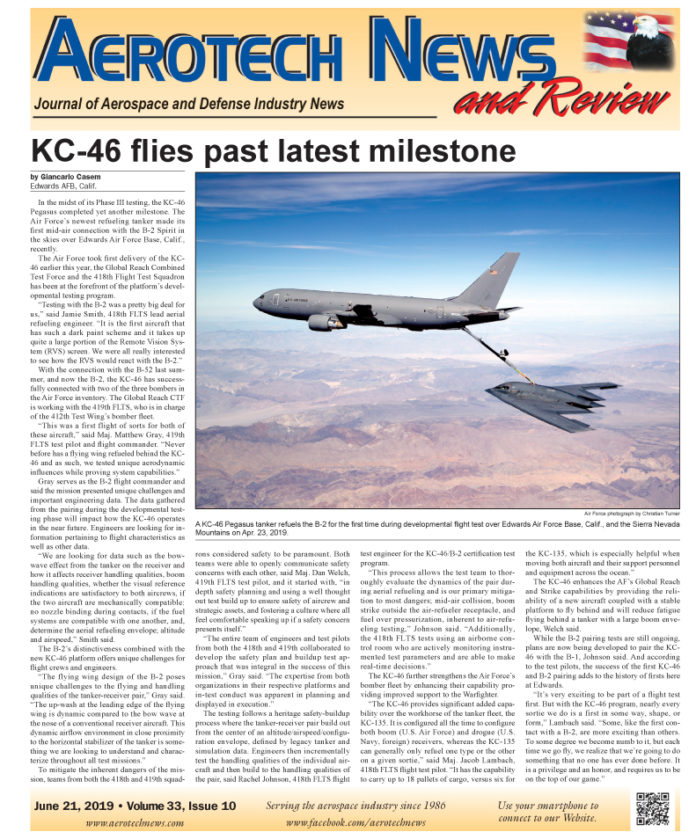 Aerotech News and Review – Journal of Aerospace, Defense Industry and Veteran News, serving the Antelope Valley ("Aerospace Valley") and Edwards AFB, CA – June 21, 2019
Click on the thumbnail below to view the digital edition.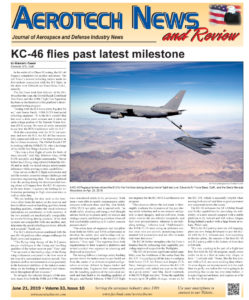 Thanks for checking out the June 21st issue of Aerotech News and Review! Our neighbors at Edwards Air Force Base (a.k.a. The Center of the Flight Test Universe) continue to reach program milestones in their work with the KC-46 Pegasus tanker. The Pegasus recently made its first mid-air connection with the B-2 Spirit in the skies over Edwards Air Force Base. The KC-46 has successfully connected with two of the three bombers in the Air Force inventory. Click on the link below and check out our front page story for more information on the progress of this flight test program.
http://online.flipbuilder.com/vzwd/nvgd/
Here are some more highlights from this week's issue:
Community gathers to observe Flag Day at Joe Davies Airpark: page 3
X-56A remotely piloted aircraft takes to the skies above Aerospace Valley: page 4
XQ-58A UAV completes second successful flight: -page 7
High Desert Hangar Stories – The Lockheed XC-35: page 8
Hometown Heroes: pages 10 & 12
All this and more in this week's edition of Aerotech News and Review! Pick up a copy of the paper at our usual distribution points throughout the Antelope Valley, and "Like" our Facebook page for daily news updates and access to our website, story and photo archives. It's our privilege to serve you – have a great week! #aerotechnews #eafbnews